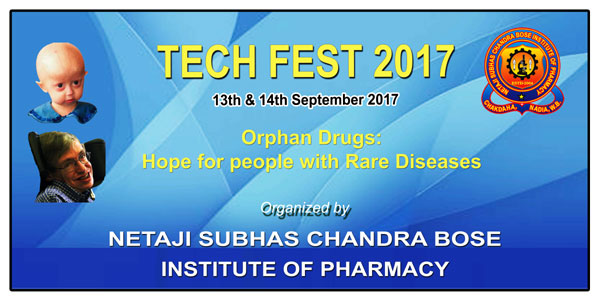 DATE: 13th & 14th September 2017
THEME: Orphan Drugs: Hope for people with Rare Diseases
CHIEF GUEST: Mr. Ajit Kumar Sinha, Retd. Assistant Director, Directorate of Drugs Control, Govt. of WB.
CHIEF SPEAKER: Mr. Rajarshi De Sarkar, Zonal Sales Manager, Eastern Zone, Novo Nordisk
About the theme
We are acquainted with many popular diseases like diabetes, dengue, malaria, hypertension, and many more; the list almost always ends with cancer. If we go through the health columns of news papers or health magazines we find them filled with advises, medicines and treatments of these diseases only.
Popular in the sense that not less than 2 lakh patients are afflicted by these dreaded diseases. We rarely discuss about the rare diseases with which very few patients are suffering in this world. Most of them are genetic in nature. Certain protein or enzyme is not synthesized in those patients. Their days are numbered. After a certain age they succumb to those rare diseases.
We have seen the film "Paa" acted by one of the great actors of our time, Mr. Amitabah Bacchan. The disease shown in the film is progeria or premature aging symptoms – a rare disease. Let us recall Stephen Hawking, the great physicist of our time. He is immobilized in a wheel chair. His all muscles are paralyzed due to a rare disease a slow progressing motor neurone disease.
These are two celebrity examples suffering from rare diseases. About 7000 such diseases are reported all over the world till date. The unfortunate side of these tales is that the research work on drug discovery against these rare diseases is not at all economically viable. If a drug is discovered also, it is not profitable to manufacture and market it within less than 2 lakh patients. There is a total lack of incentive to discover, manufacture and market these drugs. Thus these drugs are termed as "ORPHAN DRUGS", because there are "NO SPONSORS".
To come out from this grim situation United States passed a law – "The Orphan Drug Act" of 1983 to facilitate development of orphan drugs. Japan adopted it in 1993 and the European Union in 2000.
Drug companies nearly universally believe the ODA to be a success. Before 1983 only 38 drugs were approved in the USA specifically to treat orphan diseases. After 2010, the FDA approved 353 orphan drugs and granted orphan designations to 2,116 compounds. Out of roughly 7000 rare diseases nearly 200 became treatable by 2010.
Therefore, we dedicate this Tech Fest to the cause of Orphan Drug to save those neglected patients suffering from rare diseases.
Competitions conducted during the Tech Fest days
Sep 06: QUIZ
---
Sep 07: ANTAKSHARI
---
Sep 08: Morning Session: PAPER CRAFT
---
Theme: Flower vase with flowers
Sep 08: Afternoon Session: PAPER CRAFT
---
Theme: Living Creatures
Sep 11: Morning Session: RANGOLI
---
Theme: Swachh Bharat
Sep 11: Afternoon Session: MOVIE MAKING
---
Theme: Laboratory
Sep 12: FOOD FESTIVAL
---
Theme: Sandwich
Sep 13: ORAL PRESENTATION
---
Theme: Scientific
Sep 13: POSTER PRESENTATION
---
Theme: Scientific
Sep 13: 3D MODELING
---
Theme: Scientific
Sep 14: GROUP DANCE
---
Theme: All forms
Sep 14: FASHION SHOW
---
Theme: D' ROYALE